Practice the eight principles that will lead your team to success
8 Productive Practices program is a fully-interactive workshop where each success habit is explained, explored and then practiced. Your people will be given challenges and exercises that fit each specific habit. The structure of will be dynamic and the environment in the room will be constantly shifting.
Featuring positive group interaction, the 8 Practices will keep your people engaged as they are learning. Making the 8 Practices into relatable concepts is easiest when people can actually put them into practice. This is why it is designed so that as the program evolves, every participant will be using the Practices so they will remember them when they get back to work.
Request More Information
In this training workshop you will learn:
Proactive Action – Principles of Personal Vision
Planning – Principles of Personal Leadership
Prioritizing – Principles of Personal Management
Sharing Success – Principles of Interpersonal Leadership
Communicating – Principles of Empathetic Communication
Cooperative Synergy – Principles of Creative Cooperation
Practicing Success – Principles of Practice & Renewal
Spread Trust – Principles of Propogating Trust
Each of these principles will be discussed in a facilitated dialogue. This will be followed by a fun, experiential activity or game that will drive the concept home. Participants will both learn all the Outstanding Habits and have a chance to put them to practice during the program. Your people will surprise you with what is possible after only a few minutes time using highly productive practices. It is a fun, interactive and engaging environment.
How the training works
The program focuses on collaboration, strategy, creating a common bond and subsequently morale building. This in turn provides the benefit of improved efficiency and productivity.
This is a modular program that can be tailored to the needs of the organization. It can be delivered as either a half day or full day program. Whether you choose the half or full day, in either case, there will be stand alone interactive introduction to the program and a wrap up that will review and reinforce the principles.
For the half-day program, companies will get to customize their program by selecting 3 of the most suitable and desirable Habits to focus on. The other 5 habits in this case, will be briefly reviewed.
The full-day program will feature all 8 Productive Practices. In certain cases, it would be possible to cover this in two half-day sessions to accommodate a client's needs.
It might be the best investment you could make as a company.
Request More Information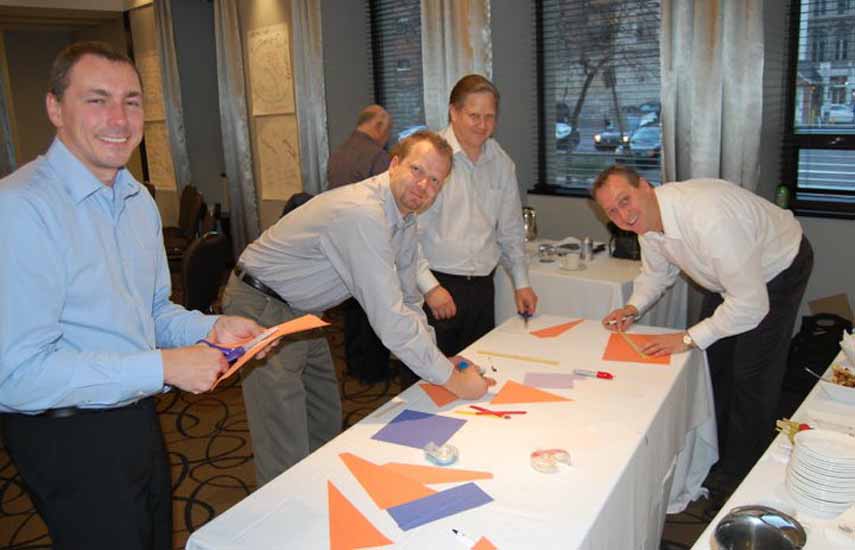 Your investment includes:
Full-service all-inclusive training program
Complete pre-program communication including liaising with venue (we can help you source many hotels, resorts and venues in Conway)
Day of program organization and coordination
On-site professional Facilitator and friendly Event Hosts (necessity of hosts dependant on activity choice, location and group size)
All materials, equipment and props for program activities
Post-event review and summary of lessons and concepts
Delivery, set up, management and break down of program
The price we quote you is the price you pay. We include any related travel and miscellaneous costs in our quote so you can feel confident your budget will be met for the program.
Top 3 ways to make the most of your training day
Jump in and actively participate, be prepared to get a little out of your comfort zone, and go in with the intention of learning something valuable.
Request More Information
HOW MUCH DOES THIS EVENT COST?
In-Person Training Program: Starting at $10,295
Pricing does not include any venue rental fees or printing of materials.
Virtual Training Program: Starting at $4,750
Pricing does not include video conferencing software or printing of materials.
Contact us for a fast and personalized proposal that addresses your program specifics, group dynamics, objectives, and budget.
Typical group sizes are between 10 and 30 people, however, we can facilitate sessions for groups as small as four, and as large as 200 participants.
Reviews for Self-Discovery with Myers-Briggs
" The best training session I have ever participated in. I would highly recommend this team. "
" The day was very entertaining and I liked the exercises that reinforced the training. I also enjoyed the creativity of this workshop. The partners painting blind was a good communication exercise that we can hopefully bring into future meetings. All great!"
Get the team building activity help you need today!
Contact our team at 1-877-713-7238 to discuss what you're looking for and experience for yourself why people who plan team building activities for the most successful companies in Conway rely on our talented team. Whether you have a large group of 1000 plus, or something much smaller, we can help. And if you require it, all our activities are available in a bilingual format!
Need a detailed proposal right away? That's our specialty.
Part of an independent meeting planning firm? See why a meeting planner partnership with us and our vast array of group activity solutions makes great business sense.
Download Our Guide to Innovative Corporate Team Building Events
Looking for a unique corporate teambuilding event in Conway or group activity your clients will get excited about? Have a look at the team building ideas we provide to successful and emerging companies from around the world. They are all designed to improve morale, increase camaraderie and enhance productivity.
Recent Client Feedback
We thrive on helping our partners achieve their goals through our unique and innovative suite of corporate team building events and group activities. Feedback like this is what we strive for every time!